Amsterdam Coffeeshop Crawl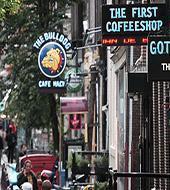 Amsterdam is the most tolerant city in the world. Subjects like prostitution and softdrugs are legalized because in Holland they believe it reduces crime shady areas in the economy.
To understand how Coffeeshops are integrated in the daily life of Amsterdam you need to understand many things. In this tour you will get to know the interesting stories behind the scenes of one of Amsterdam´s famous symbols.
You will join a local for a light-hearted tour available for everyone. You will visit some Coffeeshops and you can decide yourself to grab a smoke or to only observe.
Highlights:
- An experienced and local guide who can tell you all about the Softdrugs Law in Holland and how the Coffeeshops are integrated in the daily life of Amsterdam
- A visit to several Coffeeshops
What is not included
- The tour does not give you free marihuana. You need to purchase this yourself in the Coffeeshops.
Duration: 1,5 hour
Meeting point:
The meeting point is in the center of Amsterdam (you can find the exact departure location at your voucher)
Departure time: 19.00h

Tickets sent by email!
Powered by Ticketbar